Aeronautical policy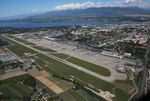 With its 10 Theses paper, AEROSUISSE gave the impetus for a Swiss aviation policy years ago. Previously, such a guideline for joint action by parliament, authorities, aviation operators and stakeholders existed only in rudimentary form. The most important concern of the 10 Theses Paper was the protection of the national interest in an efficient and competitive national aviation through Swiss legislation. This must, of course, be done within the framework of pioneering international legislation.
In this spirit, National Councillor Paul Kurrus, then President of the Parliamentary Aviation Group, submitted a postulate on 21.6.2001 (Postulate 01.3375 Kurrus of 21.6.01 for a Swiss aviation policy. In it, he called on the Federal Council to submit a report to Parliament on a future-oriented Swiss aviation policy. The Federal Aviation Commission (FAC) was subsequently mandated by the Federal Council to develop the basis for such a federal aviation policy.
Report of the Federal Council on Switzerland's Aviation Policy 2004 (Lupo)
The basic orientation of the 2004 aviation policy was still correct, but the Federal Council's 2004 report on Switzerland's aviation policy no longer corresponded to today's circumstances in essential components. The head of DETEC had therefore decided that this report needed to be updated. AEROSUISSE had drafted a thesis paper in which the consolidated aviation policy ideas of the entire industry were presented. In 14 theses, AEROSUISSE set out in detail its ideas on the
Federal Council Aviation Policy Report of 25 February 2016
The objectives contained in the Federal Council's 2016 Aviation Policy Report for eliminating capacity bottlenecks at national airports or the renewed examination of the assumption of costs for sovereign security measures by the state are important for strengthening the competitiveness of Swiss aviation.
The Federal Council emphasises more strongly than in the 2004 Lupo the public interest in general aviation, in particular in business aviation, but also in rescue and working aviation as well as in flights for training purposes. It therefore also considers the preservation of a network of regional airports and airfields to be important.