Civil aviation and environment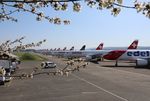 Civil aviation accounts for about 2-3% of global carbon emissions.
In order to implement this IATA climate protection strategy, Swiss aviation has drawn up a roadmap on CO2 reduction measures in air transport:
Roadmap AEROSUISSE
According to the FOEN greenhouse gas inventory, the annual CO2 emissions of air traffic within Switzerland and for international air traffic from Switzerland to destinations abroad amount to 5.4 million tonnes of CO2. This corresponds to a share of 0.6 % of the global CO2 emissions from aviation totalling 895 million tonnes of CO2.
The domestic share is about 0.1 million tonnes of CO2 (excluding military aviation). All international flights from Switzerland have a global share of 0.1 per mille of the fossil CO2 emissions caused by humans.
The CO2 emissions per passenger-kilometre averaged over entire fleets and short- to long-haul routes are today typically well below 100 grams of CO2 per passenger-kilometre.
You can find out more about this topic in our current Swiss Aerospace Factsand on the website "Fluglärm-Portal".