Swiss aviation numbers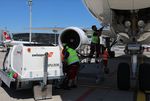 Switzerland's six largest airports handled more than 58 million passengers in 2019. This corresponds to an increase of 1.7% compared to the previous year.
For every million passengers, 750 to 1000 jobs are created at a national airport.
In 2018, Swiss scheduled airlines served 121 destinations in 62 countries and 6 in Switzerland.
The Swiss business aviation industry secures around 34,000 direct and indirect jobs and generates annual revenue of CHF 15 billion.
Skyguide air navigation services controlled a total of 1,298,754 instrument flights in 2018, of which 808,445 were transit flights over Switzerland.
At 1.3 % of total federal expenditure on transport, federal spending on civil aviation is extremely modest. With few exceptions, no state funds flow into aviation.
Current figures reported by the FOCA, SIAA, FSCD and SHGPA can be found here.
Further information can be found in the Swiss Aerospace Facts 2019.