Job profiles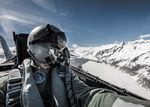 Education and training in aerospace industry
Ich lerne aviatisch
Vocational training and education flyer
For AEROSUISSE, as the umbrella organisation of the Swiss aerospace industry, the promotion of young professionals is one of the most important and sustainable tasks. For our member companies, high-quality basic vocational training is of great importance. These companies therefore offer a large number of different demanding apprenticeships. Several hundred apprentices in technical and commercial professions as well as in logistics thus come into direct contact with the aerospace industry.
The range of public and private professional training opportunities, such as licences for aircraft mechanics and pilots, is internationally recognised. Study opportunities at the higher technical colleges and universities of applied sciences up to the universities and federal institutes of technology open paths into practically all areas of aerospace.
AEROSUISSE wishes you a good start and every success.