Economic importance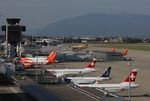 The importance of aviation for the Swiss economy is important. With a value added of 16.6 billion Swiss francs, which corresponds to 2.5 % of the gross domestic product, Swiss airports employ almost 120,000 people.
The dream of flying, or at least the possibility of using aviation services in various forms, is now deeply anchored in our consciousness and reflects a society's demand for individualism and mobility.
Aviation successfully connects companies based in Switzerland with important supplier and sales markets around the world. This opportunity offers growth opportunities, increases the attractiveness of the country and secures added value creation in the long term.
In our Swiss Aerospace Facts you can learn more about the importance of aerospace for Switzerland and its population.