News Archive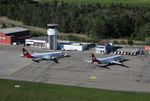 For the first time in 12 years the European Space Agency ESA is recruiting a new class of astronauts. Citizens of all ESA Member States are eligible to apply.
In this frame, on 27 April 2021, at 17:00 h - 18:30 h , the Swiss Space Office of the SERI together with ESA is organizing a national Information Event. The objective is to provide potential applicants from Switzerland with details about the requirements and the application process. In addition, two astronauts will share their experiences during their space missions and the training, and in general talk about the daily life of an astronaut, both in space and on Earth. Participants will have the opportunity to ask their questions about becoming an astronaut and working for ESA during a Q&A session, so as to best prepare their applications.
We cordially invite the interested public to participate in this event, which will be in English. Attendance is free, with mandatory registration.
More information and registration link are available at:
French: L'ESA recrute les prochain(e)s astronautes - aussi en Suisse! (admin.ch)
German: Die ESA sucht die nächsten Astronautinnen und Astronauten ‒ auch in der Schweiz! (admin.ch)
Italian: Candidature per diventare astronauta dell'Agenzia spaziale europea aperte anche in Svizzera (admin.ch)
In parallel to the "regular" application process, for the very first time, ESA is also inviting citizens with physical disabilities to apply to the Parastronaut Feasibility Project: ESA - Parastronaut feasibility project