AEROSUISSE / Umbrella Federation of Swiss Aerospace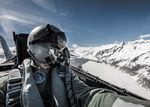 We represent all parties interested in the promotion and preservation of aerospace, both ideally and economically, and coordinate their efforts. Learn more
Aviation is systemically important for Switzerland
Confederation must help secure liquidity. The spread of the coronavirus poses an unprecedented challenge to air transport.
Education and training in aerospace industry
For more than a hundred years, aviation has captivated the Swiss population. Our export-oriented economy is dependent on a well-functioning aviation system. Aerospace contributes to Switzerland's prosperity, generates added value and creates jobs in large numbers. Find your professional future in the fascinating world of aviation!